Lincoln Electric Announces New Activ8x® Pipe™ Portable Wire Feeder
Compact, lightweight wire feeder delivers the ideal field solution for Advanced GMAW and FCAW welding applications.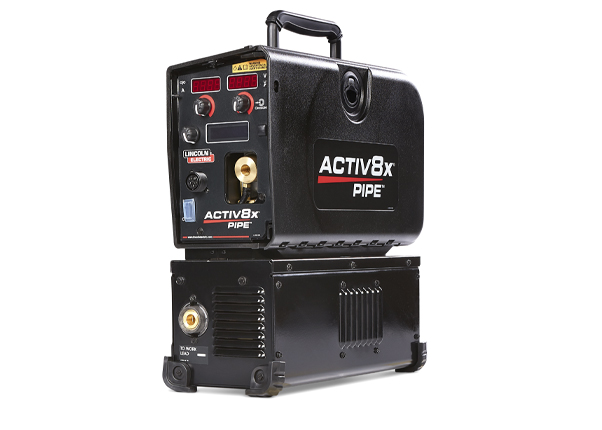 Cleveland, OH -Lincoln Electric is excited to announce the new Activ8x® Pipe™ portable wire feeder – the latest addition to the proven Activ8X® line of rugged, field-ready wire feeders. Designed with weld processes specifically optimized for pipe welding, the Activ8X Pipe now allows you to take Lincoln Electric's industry-leading root-to-cap weld processes – including STT® Field and Pulsed MIG – right out to the jobsite or right-of-way.
Built on the proven Activ8X wire feeder platform, the rugged and compact design of the Activ8x Pipe provides durability to withstand the harshest conditions, from mud and rain, to extreme heat or cold, along with lightweight mobility for easy transportation around the jobsite.
In addition to having optimized weld processes – including STT Field, CV-MIG, CV-FCAW, and Pulsed MIG for steel and stainless steel applications - the Activ8X Pipe comes with the latest welding technology for a true operator-friendly solution. Starting with it's a straightforward user interface, operators can easily control the full welding process right at the feeder, including memory options that allow for easy storage and selection of saved modes between passes. Embedded CrossLinc® and CableView™ Technology allows for simple system set-up and use, eliminating the need for additional control cables or sense leads while providing full control of the welding process up to 200 ft. from the power source with no loss in arc stability.
"Field welding applications running GMAW and FCAW processes can be demanding, as it requires a wire feeder solution that provides portability, reliability, and a variety of welding process for different applications and materials." states David Jordan, Global Industry Segment Director – Process Industries. "Thanks to the new Activ8x Pipe, we now have an ideal solution to effectively meet these requirements; offering a rugged, lightweight wire feeder packed with advanced technology typically used in shop environments that you can now take out to the field or in remote locations"
# # #
About Lincoln Electric
Lincoln Electric is the world leader in the design, development and manufacture of arc welding products, automated joining, assembly and cutting systems, plasma and oxy-fuel cutting equipment and has a leading global position in brazing and soldering alloys. Headquartered in Cleveland, Ohio, Lincoln has 55 manufacturing locations in 18 countries and a worldwide network of distributors and sales offices covering more than 160 countries. For more information about Lincoln Electric and its products and services, visit the Company's website at https://www.lincolnelectric.com.
Media contacts:
Robin Suttell – rsuttell@wearefalls.com , 216.472.4032
Elizabeth Barry – elizabeth_barry@lincolnelectric.com, 216.383.2527